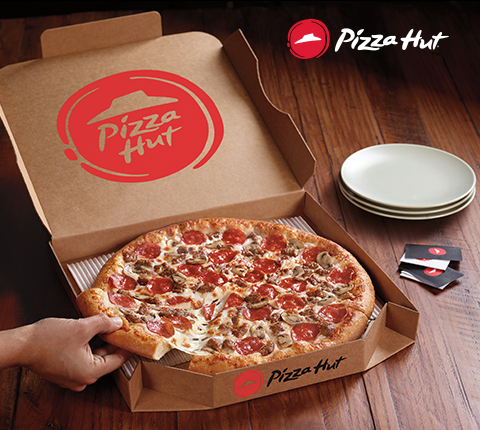 On August 17, at the food court of the Arena Plaza shopping center, located on the first floor of the VTB Arena, the pizzeria of the world-famous Pizza Hut chain opens.

For all guests on this day there will be a special promotion: when buying pizza, a drink is free! The restaurant in the Arena Plaza shopping center is an Express format Pizza Hut, where pizza will be prepared and served in just 7 minutes. There will be more than 15 types of fillings to choose from, including the traditional flavors of Margarita, 4 Cheese, Pepperoni and European. In particular, the menu offers a wide selection of appetizers and desserts that will turn a simple snack into a full-fledged lunch or dinner.

The company follows high quality and safety standards. Guests of "Arena Plaza" will always be able to make sure of the quality of the products that will get into the pizza, as the restaurant will have an open kitchen.

Pizza Hut is the legendary taste of real pizza that appeared in 1958. Lush PAN dough has already won millions of fans around the world. Pizza Hut in Russia has more than 50 restaurants, which is why the company has a special Guest Care Department that closely monitors the quality of products, work with customers, and even arranges surprise inspections of restaurants.

Guests can enjoy the taste of pizza prepared according to the unique Pizza Hut recipe, not only in the restaurant itself, but also take pre-order takeaway dishes, as well as arrange home or office delivery through the website or mobile application.

Arena Plaza is a shopping center with a unique sports concept for Moscow. It is located on the first floor of the VTB Arena - Dynamo Central Stadium complex, which is located in the very center of Moscow, 50 meters from two metro stations - Dynamo and Petrovsky Park - and combines a football stadium, a universal VTB Arena , the shopping center itself and underground parking. There is a wide range of goods and services for outdoor activities and a healthy lifestyle, a boxing and hockey school, Way2Fit and UFC GYM fitness centers, beauty salons, an air flight simulator, an original gift shop, coffee houses, a food court, a pet store and much more.

For reference:

The infrastructure of the VTB Arena Park project includes:

VTB Arena - Dynamo Central Stadium:
complex "Academy"
a residential area with business-class apartments and apartments in a club house with the service of the Hyatt Regency Moscow Petrovsky Park hotel;
Class A offices with a total area of ​​68,000 sq.m.;
Shopping center "Arena Plaza" (lease area - 18 thousand sq.m.);
five-star Hyatt Regency Moscow Petrovsky Park hotel with 298 rooms;
8 hectares of physical culture and sports park "Dynamo".

The total area of ​​the project being implemented is about 32 hectares.